I did a fair bit of busking in my teens and early 20s and also did a little just before we left Amsterdam in 2011. I always enjoyed the directness of playing in the street, so I jumped at the chance to play at a new busking festival in Morges last August.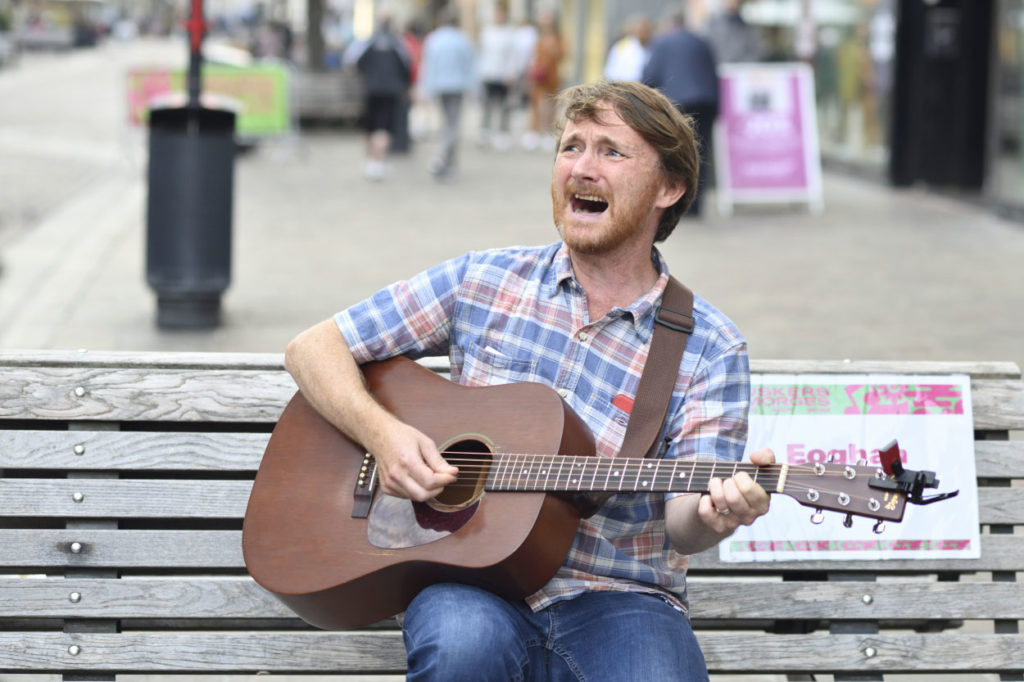 The BuskersÁMorges festival was inspired by a similar event that has been running in Neuchâtel for around 30 years. There were around 15 acts on the programme in total: music from Mongolia, Cuba, Senegal, Spain, Colombia and Argentina, plus klezmer and bluegrass, as well as street performers of other kinds. And me. 🙂
We were scheduled to do two 50 minutes sets each per night for four nights. I chose to sing without any amplification and to perform only my own songs. It was a challenge, particularly as I'm more accustomed to singing in pubs and venues these days, but being surrounded and inspired by the many talented musicians who were on the programme, I re-learned the art of performing in the streets.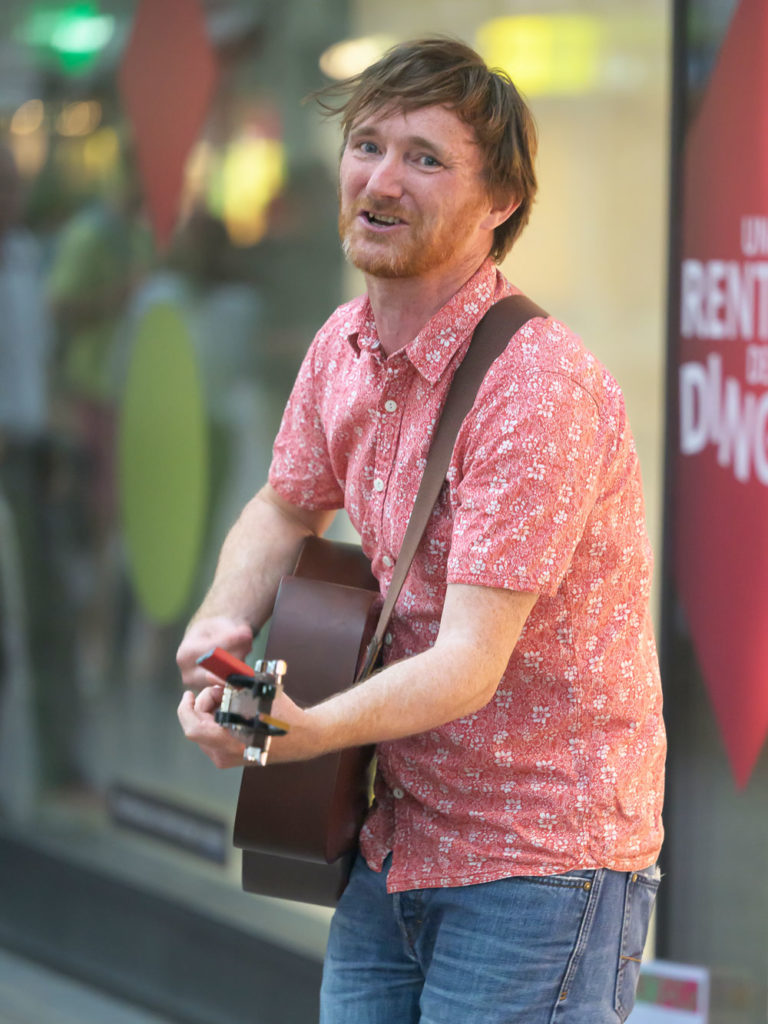 This photo is from my very first set, on the Grande Rue in Morges, with storm clouds gathering overhead. The 25 minutes I managed before the rain came went quite well, but it wasn't enough to properly get into the swing of it. The rest of that first evening was a washout.
I started Thursday evening playing on a narrower pedestrianised street and gathered a good crowd. They felt, however, quite distant from me, mostly lingering on the other side of the street. And this meant lots of people crossing back and forth in front of the 'stage', making it hard to properly engage with those who stopped to listen. I also realised very quickly that my voice was not going to last very long if I kept trying to project across the entire street (without any amplification). I'd need a different approach.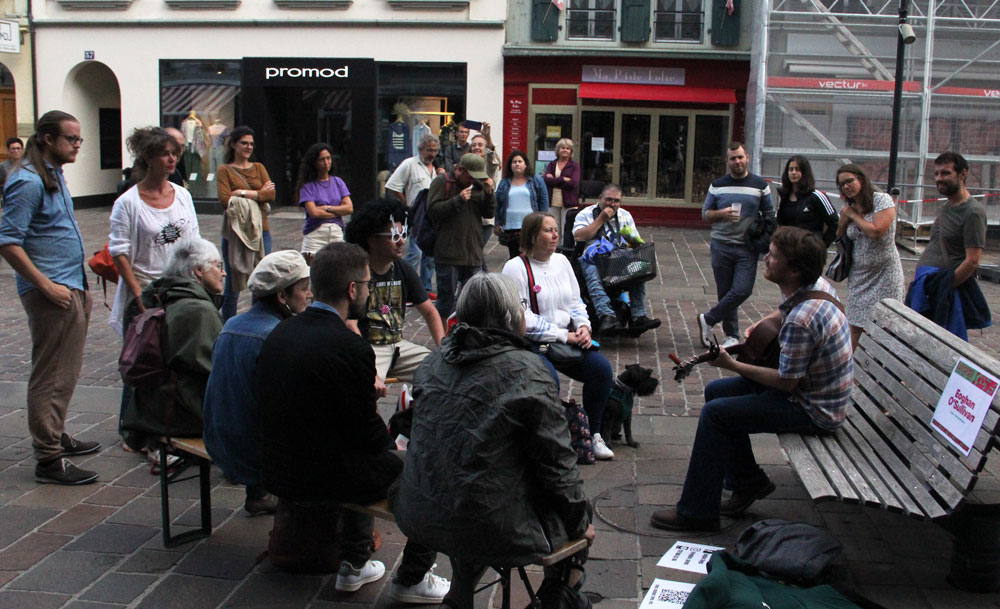 For my next set, I placed a couple of benches in front of a fixed bench, back on the Grande Rue, and this time played only for those who were sitting or standing right there in front of me. This worked much better, turning it into something more like a concert.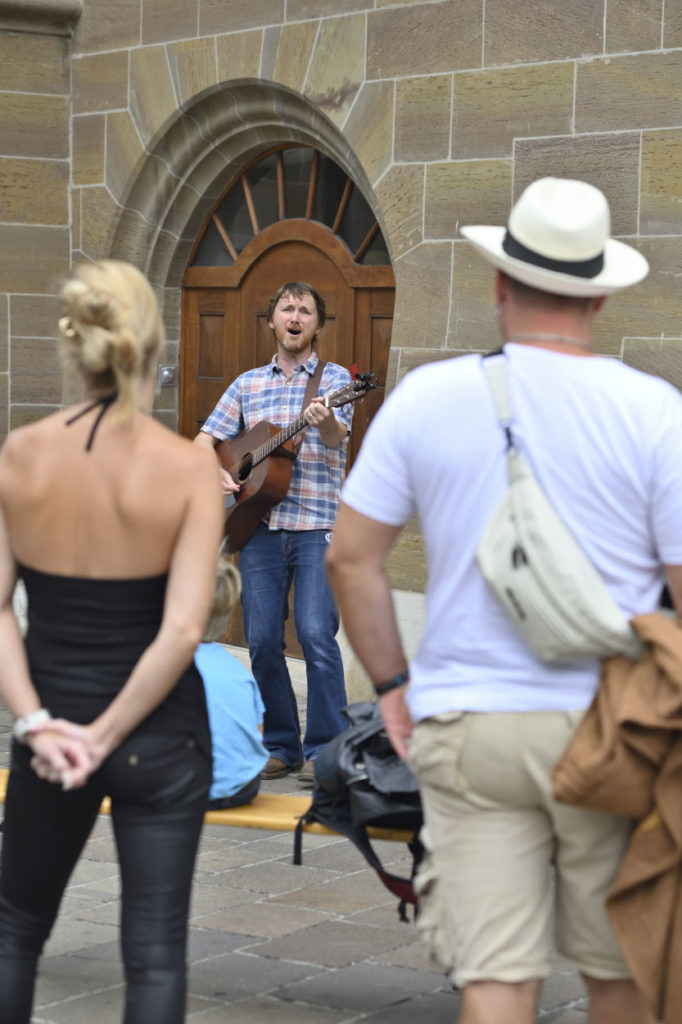 From that point on I felt at home again (with the exception of my early set on Friday, pictured above, when it was the wrong place and time for this set-up to work). I could chat with the audience, explain what the songs were about, tell a few stories, and sing in a way that would allow my voice to stay the course.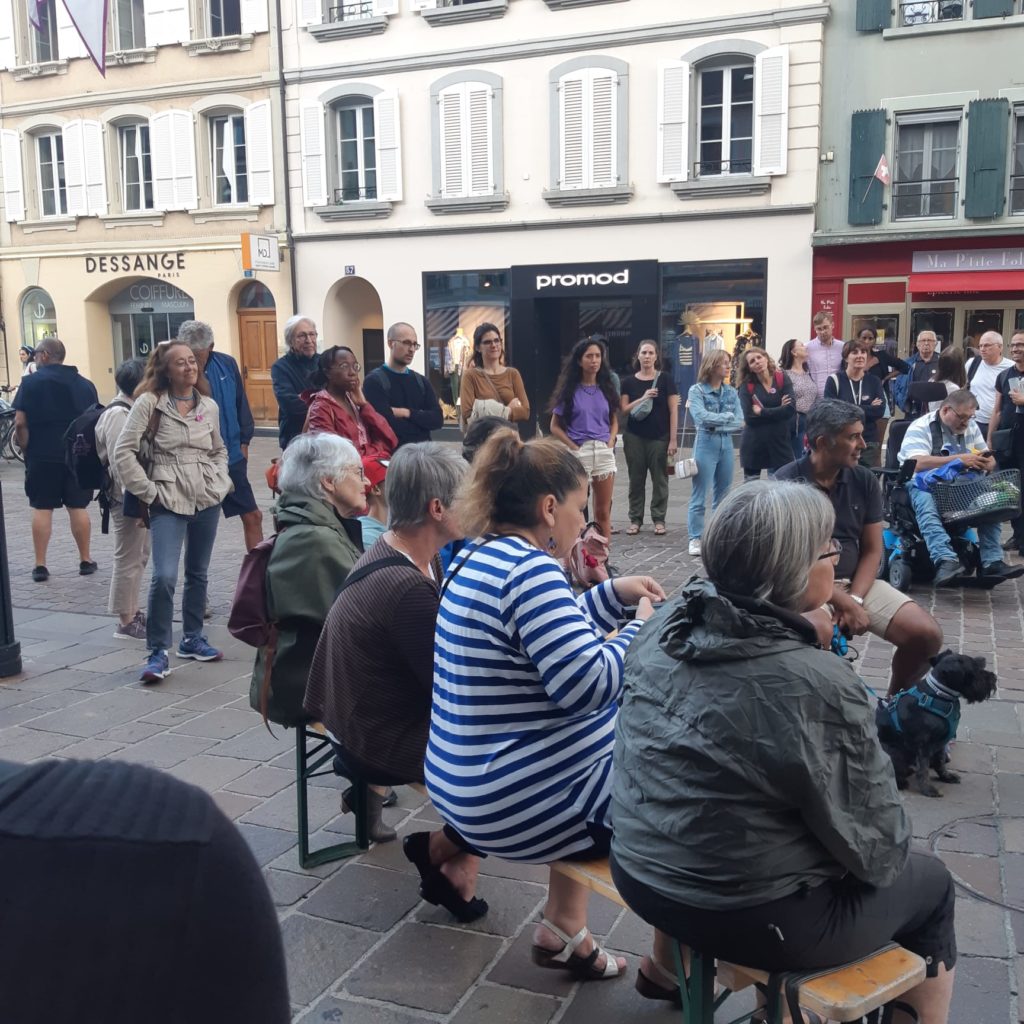 This is a photo of the audience that gathered for my second set on Friday. It was sent to me by my friend Valérie because it provides evidence of a special moment for me: standing watching in the background, left-centre, with grey hair and glasses, is the iconic (in the francophone world) children's singer-songwriter Henri Dès. We went to see him perform (at 81 years old!!) earlier this year with the kids, so I felt honoured that he stopped to listen to three or four of my songs.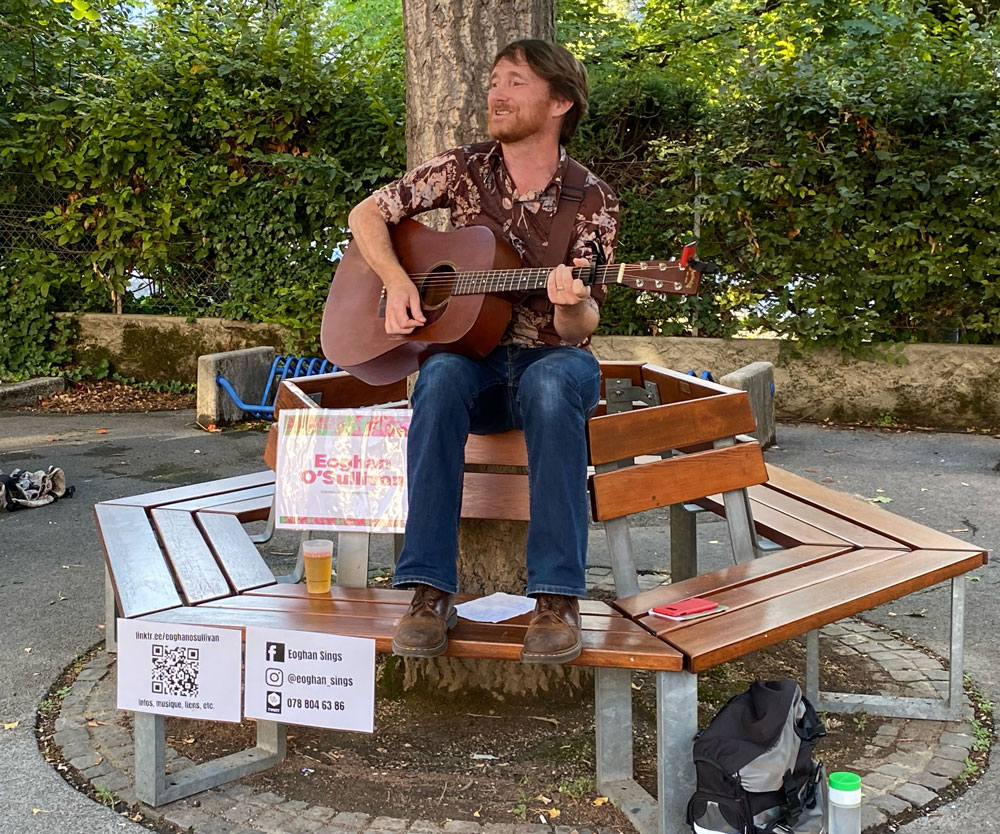 My first set on Saturday evening was in a courtyard a little away from the town centre. It was another lovely session, under the spreading branches of a tree in the evening sunshine. During this set and my later set on Saturday, I was happy to be joined by Helen (my partner in Duonomy) for a couple of songs.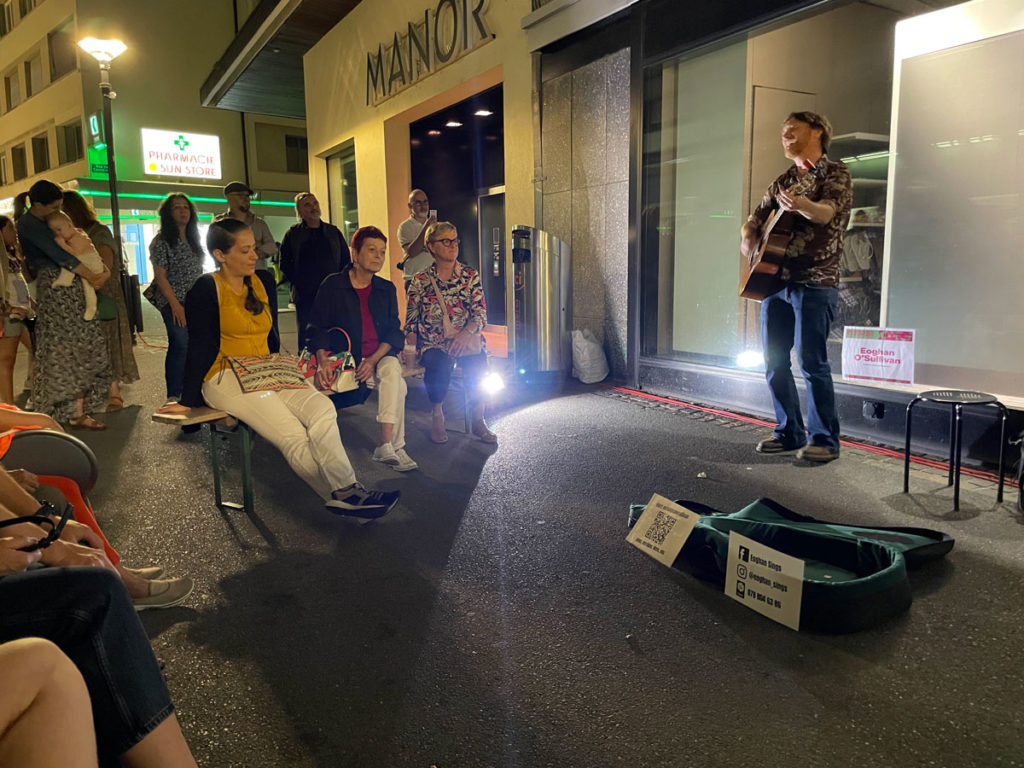 Above, and the video below, was my final set on Saturday night. It was a wonderful way to end the week, with another attentive and engaged audience.
The Journal de Morges put together a really nice video report on the whole event, where you can see some of the fantastic artists that were on the programme. I appear only very briefly here and there, but there's a nice shot at about 1'30" into the video – screenshot below.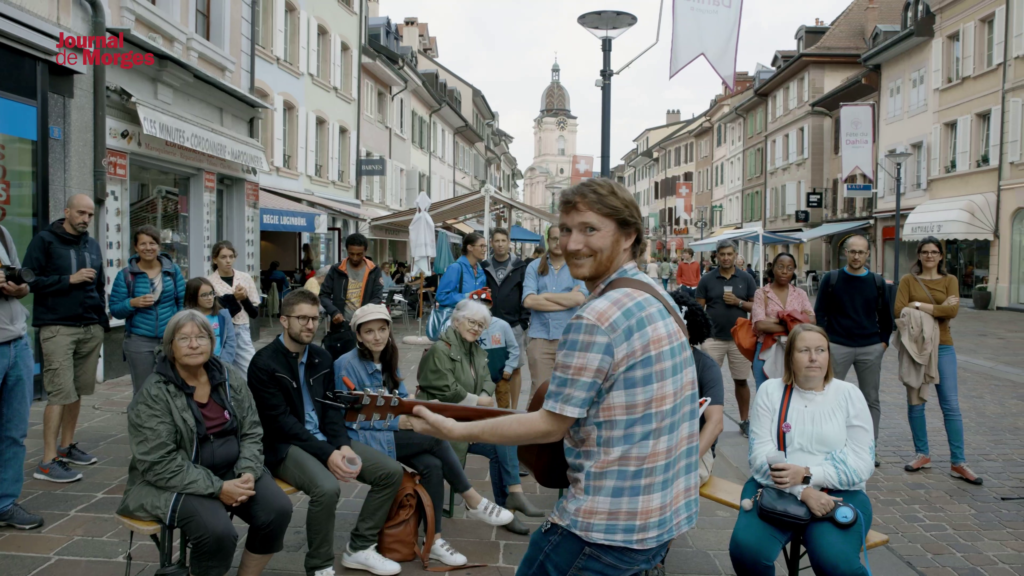 Et pour finir…
I had the pleasure of being interviewed by Françoise Ramel for her Blablaboost series, a podcast created especially for the festival. It's about 15 minutes of conversation (in French) followed by a performance of my song First In My Eyes.