I'm an Irish singer and songwriter, living (mostly) in Switzerland since 2004.
You can find links to all my music things, including recordings and videos, here.
To find out where I'll be singing live next, you should either join my mailing list or follow me on Instagram or Facebook.
Scroll down for various bits and pieces related to my musical activities. (I'm also a freelance communications consultant; there's more about that over here.)
My name, in case you're wondering, is pronounced like "Owen".
And the photo at the top of this page is by George Leitenberger.
---
Whale Theatre, Greystones
I'm doing a concert in the town where I grew up on Friday 21 October. I'm super-excited about this. It'll be a mix of my own songs and some covers, all under the theme of "Songs from the Bright Side". Read into that what you will!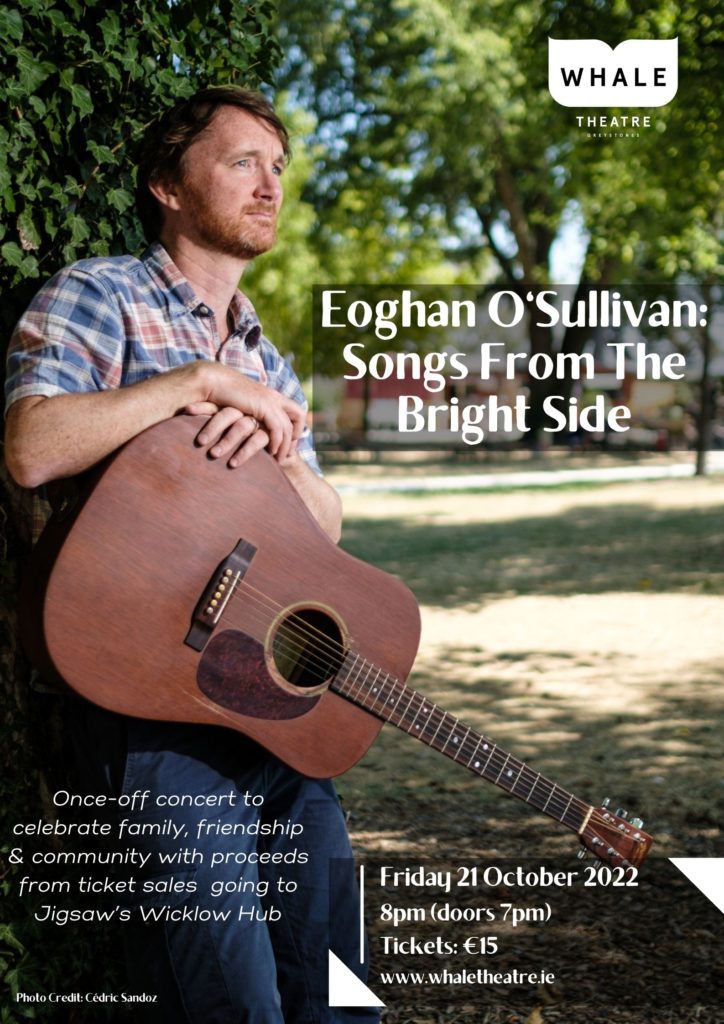 ---
BuskersÁMorges
In August 2022, I returned to my busking roots as one of 15 acts selected for the inaugural BuskersÁMorges festival. There are photos and a couple of videos here.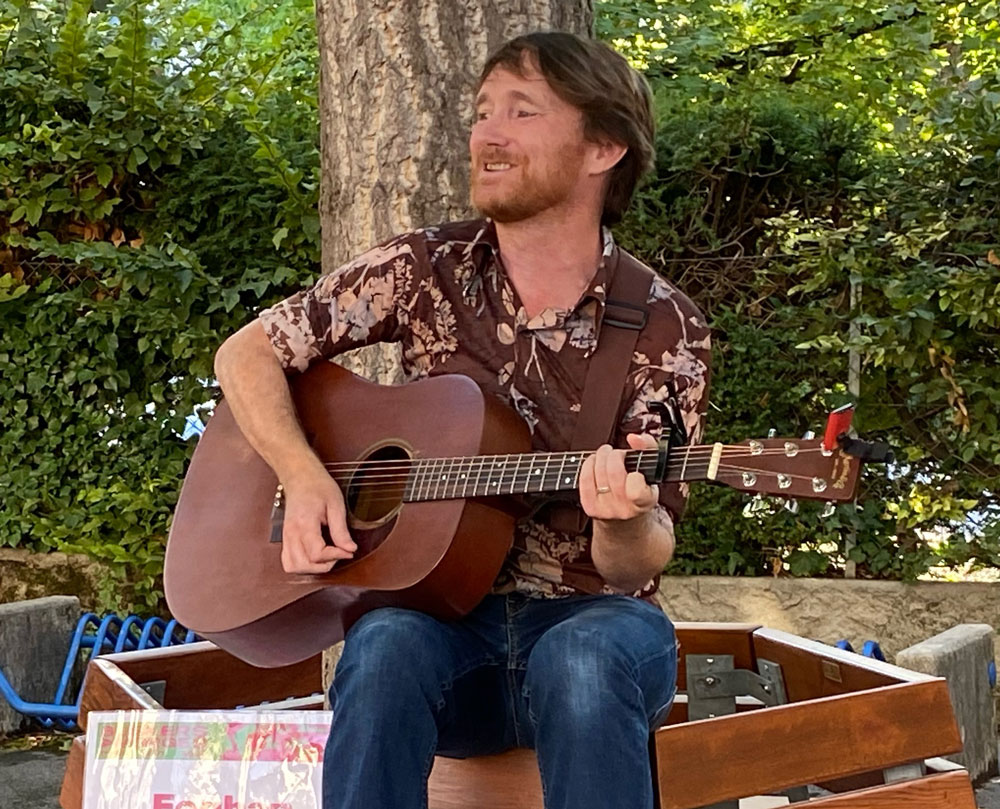 ---
Meet Duonomy!
A year ago (as I write this in mid-June 2022), I was playing a few songs at a friend's houseparty when I noticed that another partygoer was singing some really nice harmonies. Fast-forward to early 2022, and I started rehearsing with Helen Von Dadelszen. We're calling ourselves Duonomy (on Instagram here) and are putting together a repertoire of duets and other songs that lend themselves to the mix of our voices.
Our first official performance is at the Fête de la Musique de Nyon, on Saturday 18 June at 15h00 on the Place du Château.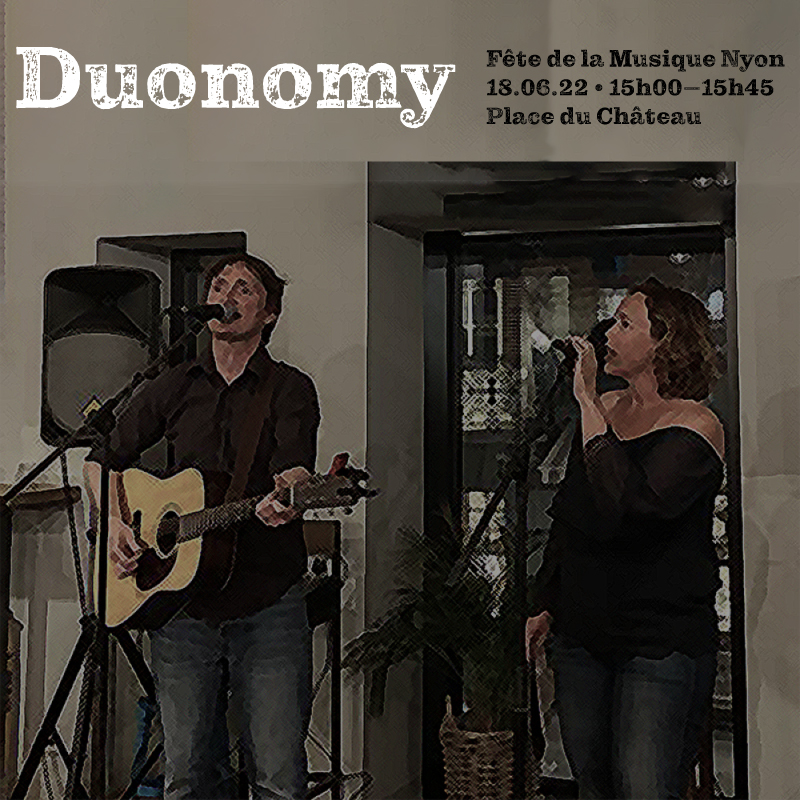 ---
Back to The Beatles
In May/June 2021, I did a series of weekly live streams dedicated to The Beatles, starting at the beginning and working my way through the albums. I covered the first four in the first session and then did two per week after that. You can catch up with them on the Eoghan Sings page on Facebook or on via the playlist on my YouTube Channel.
---
"Couch karaoke" for WDSD21
I've spent the past month or so working with Laura Mulcahy and Ruth Foley to put together a new video based on Moi Aussi, the song I wrote to promote inclusion. The video is to mark World Down Syndrome Day 2021, on Sunday 21 March. It features 36 families from the Lake Geneva region and I challenge you to watch it all the way through without smiling!
Please do share it with your network, either using the YouTube video above or the Facebook version here.
---
Dreaming of a Covid-free Christmas…
I was inspired this week to write a new Christmas song, one about the fact that many of us are unable to visit our loved ones this year, what with travel bans, quarantine, etc… It's called "Next Year (A Covid-free Christmas)", and I'm really pleased with how it turned out.
This is not, of course, my first foray into Christmas song territory. I always enjoy singing A Perfect Christmas (or "the ding dong song", as it's known to most of my friends) each year. I wrote it several years ago with David Graham…. we're still waiting for it to hit the big time!
---
With the lockdowns kicking in again around Europe I did some more live streaming from the basement. This session with David Graham, to replace our traditional pre-Christmas gig in Mulligan's of Geneva, was lots of fun.
---
The Moi Aussi song – new recording and video
My first (and still only!) song in French is now available as a special recording that is designed to encourage schools to teach and perform the song. The recording was funded by the Moi Aussi Association and features vocals from a Lausanne-based primary school class. The track can be downloaded for free, with sheet music and alternative versions that can be used as backing tracks. Visit: www.moiaussi.org/chanson
There's a long-ish post telling the full story here.
---
The Geek Song revisited
I wrote the song We Got Geeks on the occasion of a 2012 open source software conference in Geneva (there's a blog post here). I decided to sing it again this week when I was invited to do a short set on Art Hub Live, a new platform designed to help artists and venues to find new ways of connecting with their audiences. It arose from a COVID-19-inspired hackathon aiming to find innovative ways of overcoming some of the negative impacts of the crisis, in this case the disappearance of revenue streams for performers and the venues they play in. I was really pleased to be asked to help test the platform and I wish the team well with the venture.
As it happens, the Geek Song was also the subject of a message I received out of the blue a couple of months ago. An American-football-themed podcast called End Zone Geekz UK asked whether they could use the song as their theme music. I, of course, said yes. Indeed, they didn't really have to ask since, having written the song for an open source software event, I have made it available under a Creative Commons license that means anyone can use it for any non-commercial purpose as long as they share it under the same terms. You can download a recording from SoundCloud.
---
Four new songs
July 2019: I was happy (and relieved) to write three new songs in the last few months, and to finish another that first came together a year ago. I've done basic demo recordings of all four.
---
Fête de la musique
I played with The Papas for the Fête de la musique 2019 in both Nyon and Geneva. It was great! (There's a little video too…)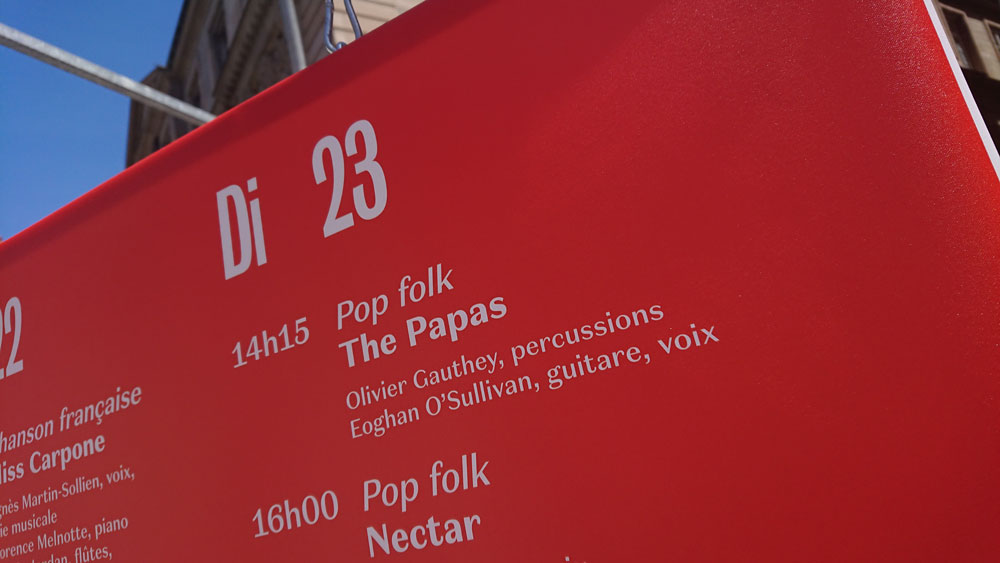 ---
Wiser Heads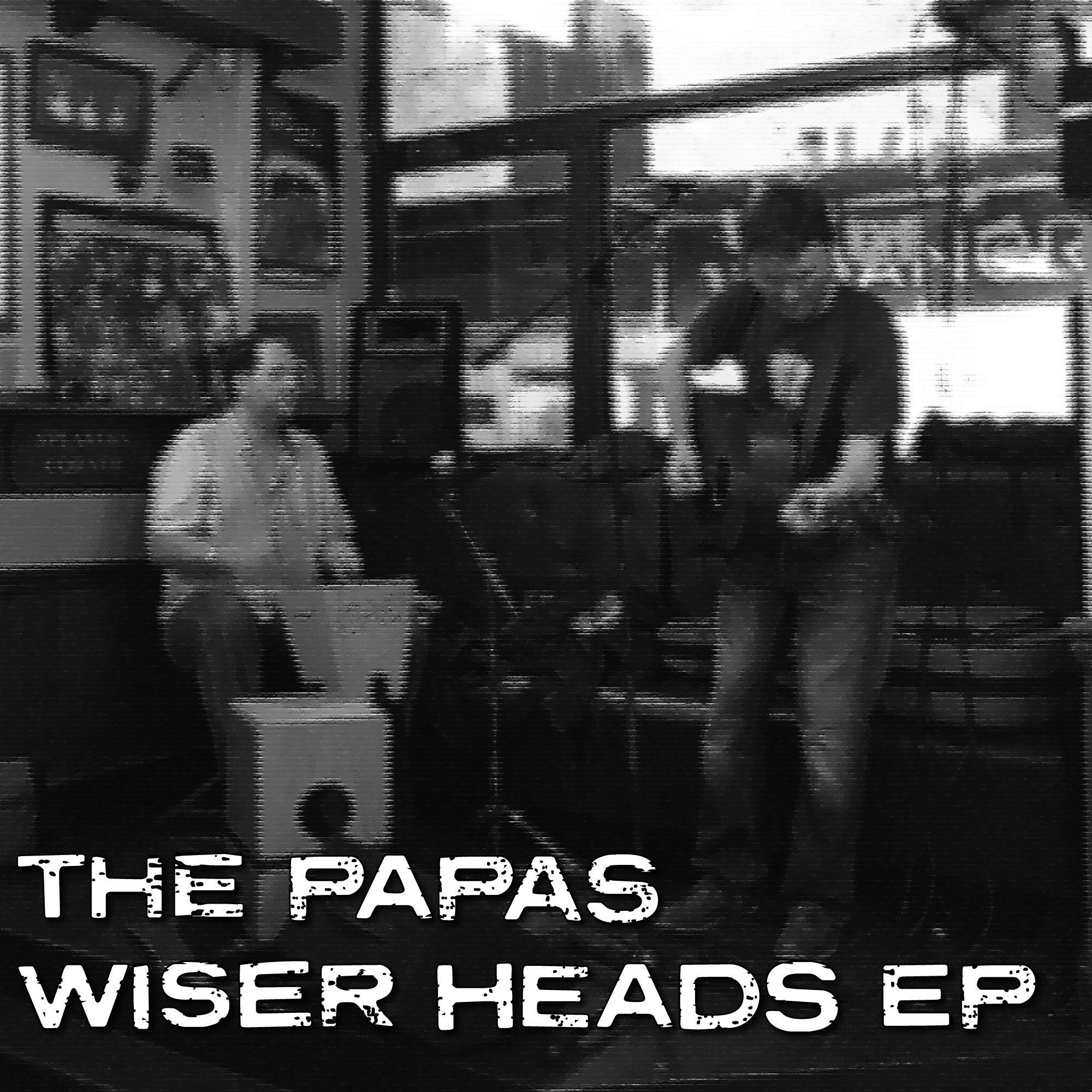 Four new recordings on a new EP from The Papas. Read all about it! (Or just jump straight to the songs here.)

---
Live performances

I'm peforming quite a bit in the Geneva area these days, mostly as one half of The Papas. You can find us in Mulligan's Irish Pub, Geneva on the last Saturday of every month among other places. We play a mix of (mostly) covers and original songs. More info on our website.
One big highlight in recent times was being the opening act for Luka Bloom when he played in Geneva. (The photo at the top of this page, by George Leitenberger, was taken that night.)
Join my mailing list if you want to hear about upcoming performances. I promise not to spam you! And if there's somewhere you'd like me to perform, get in touch!

---
Studio recordings
I've recorded my songs in studios four times now, most recently in February 2019.
You can find my songs on just about all music platforms (including Spotify, Google Music, Apple Music, etc.) if you search for my name, but you can also just click through to my SONGS page.
---
Songs for my sons
I've written (so far) a song each for my boys Declan and Robert. While there are studio recordings of both, by The Papas, the videos below feature the first demos I did of each.
---
Turning Forty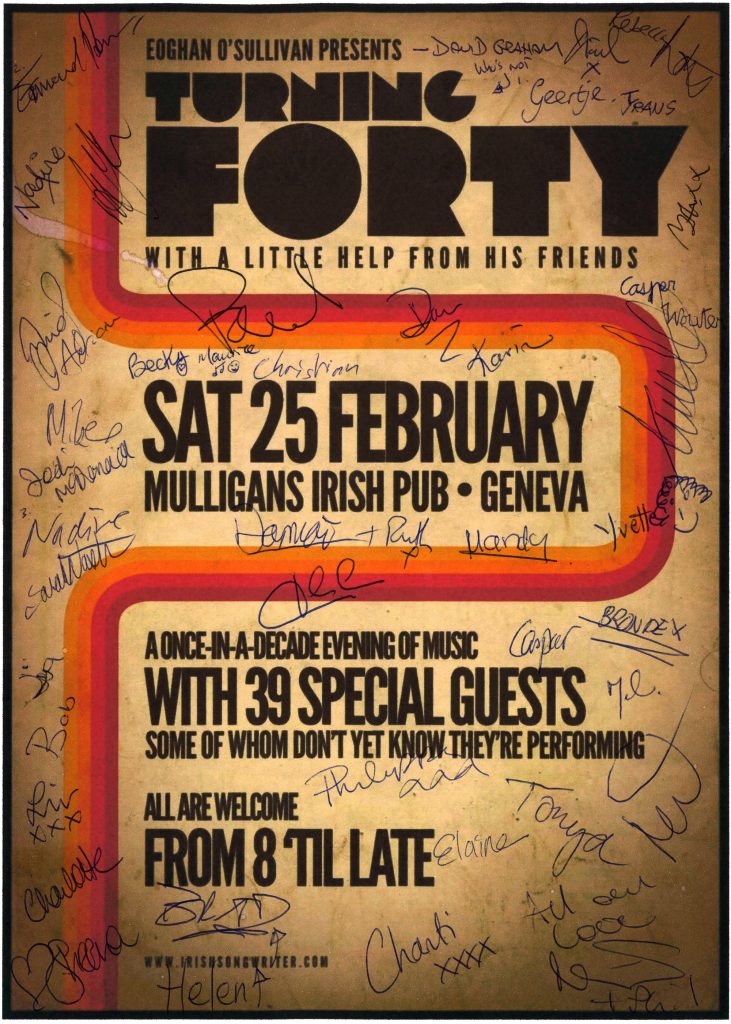 I celebrated my 40th birthday (in 2017) in style, with a big musical celebration at Mulligan's of Geneva. In the end, 43 different people sang and/or played on stage that night. It was awesome!

---
The world's only song about the fossa?
I think I've written the world's only song about the fossa. It's educational and catchy.
---
The Geek Song
I was asked to play at a festival of open source software way back in 2012. To mark the occasion I wrote a song about geeks.
The video features Mark Lawrence, who joined me for the gig. He's not a geek, but he's a brilliant musician.
---